Miley Cyrus to Perform at MTV Unplugged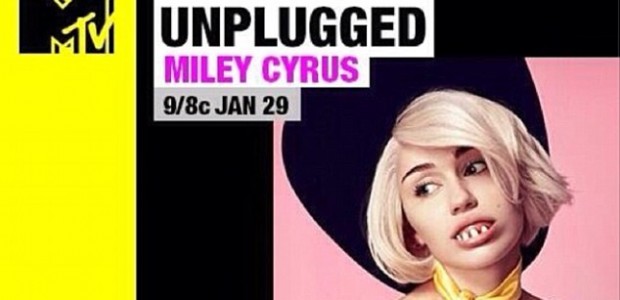 After spending a year trying to break out of her Hannah Montana character and into her bizarre new twerking one, Miley Cyrus has now been penned in to perform at MTV Unplugged. The show has been home for some of the most intimate and incredible performances by bands such as Nirvana, Alice in Chains and Bruce Springsteen (though he was plugged). MTV Unplugged was massive in the 90s. Since then, the show resurfaces from time to time for the occasional performance.
MTV Unplugged featuring Miley Cyrus is scheduled to air on January 29th, 2014. The bizarre banner shown above has also been revealed to promote the event.
Miley's latest album, Bangerz, was surprisingly well received by critics but is it enough for her to win over new fans or will Ms Miley crash and burn? We're actually thinking that she might pull this off. Have a listen to her incredible cover of Jolene below before you dismiss her.