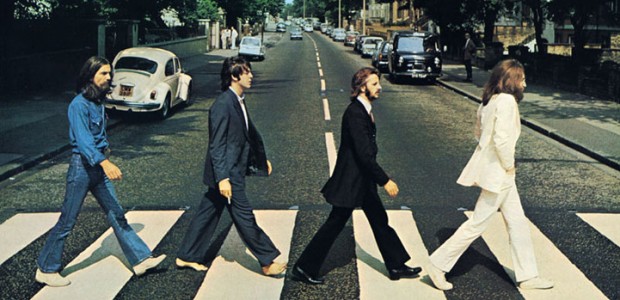 Come Together, written by John Lennon and performed by The Beatles, came together when Lennon was inspired by Timothy Leary's campaign for governor of California titled "Come together, join the party" against Ronald Reagan. This didn't last long, as Leary was sent to prison for possession of marijuana.
It has been speculated that each verse of Come Together refers cryptically to each of The Beatles (eg, "he's one holy roller" allegedly refers to the spiritually inclined George Harrison; "he got monkey finger, he shoot Coca-Cola" to Ringo, the funny Beatle; "he got Ono sideboard, he one spinal cracker" to Lennon himself; and "got to be good-looking 'cause he's so hard to see" to Paul); however, it has also been suggested that the song has only a single "pariah-like protagonist" in which Lennon was "painting another sardonic self-portrait."
Regardless of its origins, it was the beginning of something special--a song that's garnered acclaim, has been part of the heartbeat of a generation, and has been covered countless times. Let's take a look at 15 of the most popular covers.
But first, the original:
15

Eurythmics

While Eurythmics covered the song in 1987, it was not released until 2005 as a bonus track on the digitally remastered version of Savage.
14

Kate Bush

Kate Bush performed Come Together with the KT Bush Band in 1977.
13

Spiralmouth

Spiralmouth covered the song on their 1999 self-titled album. The arrangement also incorporated elements of I Want You (She's So Heavy).
12

Godsmack

Godsmack recorded this track for their 2012 album, Live and Inspired.
11

Joe Cocker

Joe Cocker appears on the 2007 soundtrack to the film, Across the Universe, with his cover.
10

Black Label Society

Black Label Society covered the song for their album, Kings of Damnation 98–04.